DEAR ANNA OLSON IS A GENTLE LITTLE FILM.
It doesn't claim to be an epic about the ravages of war, the environmental crisis or world health issues. It does, however, speak to the power of compassion as a tool for great positive change.
Every day we encounter images and ideas that serve to be divisive. And, sadly, many people are all too willing to accept this rhetoric and passively get in step with these beliefs. But, it doesn't have to be this way.
Anna's note entreats, "Please write to me." These four simple words are an invitation to the reader to work past their complacency and reach out to an individual in need. She is not asking for Herculean efforts but someone sharing a few lines about who they are and what their life is like. In the end, this simple gesture makes a substantial difference in the life of our main character.
But what 'difference' can a short animated film make?
Frederic Back's 1987 Academy Award™ winning film, The Man Who Planted Trees, was created as a statement on the positive effect one individual can have in restoring a depleted ecosystem. This film went on to inspire hundreds of reforestation campaigns worldwide, which have resulted in the planting of millions of trees. The 1994 Peabody Award-winning film, BREAK THE SILENCE: Kids Against Child Abuse, utilized the skills of animator John Canemaker to share the stories of four young abuse survivors. This film has since become a teaching tool, providing practical information to families on what they can do to stop and prevent child abuse. Even Walt Disney's 1933 classic The Three Little Pigs with its famous song "Who's Afraid of the Big Bad Wolf" served as a unifying chorus for Americans facing The Great Depression.
So how does Dear Anna Olson's message translate into an active discussion? By making the film available to groups (schools, libraries, faith-based organizations and community centers) that will most benefit from its message. After bringing the film to their attention through direct mailings and the Internet, screenings and events could then be organized where Dear Anna Olson would be used as a point of departure for discussions about the power and importance of compassion and communication. (Please see our PLANS FOR DISTRIBUTION for further details.)
Historically, animated films (both shorts and features) have a very good shelf life due to their ability to resonate with each new generation of viewers. While there are no guarantees of how this film will be received by the public when completed, evidence of Dear Anna Olson's impact can be seen in the devoted fan base that it has already generated. Even in its early stages Dear Anna Olson has elicited a consistently strong audience response to its themes.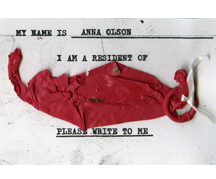 As technology and globalization continue to make the world smaller, communication becomes increasingly easier and ever far-reaching with each passing day. But the ability to reach out to millions with a single keystroke doesn't guarantee a greater understanding between the people of the world. It is for this reason that Dear Anna Olson's message of engaging each other without prejudice or bias only becomes more relevant than ever. By supporting Dear Anna Olson you are making a statement about the importance of creating life-affirming art and the need for more compassion in our daily lives and throughout the world.
Thank you.
Make a Tax-Deductible Contribution NOW!
Dear Anna Olson is a sponsored project of IFP (www.ifp.org). IFP is a non-profit organization with 501(c)(3) status. Any contributions made in support of Dear Anna Olson are tax-deductible to the fullest extent of the law.