THE INSPIRATION
Some artistic works begin after long exhaustive searches for inspiration and subject matter. It is very rare that an idea simply falls from the sky packed full of promise. This is literally how the idea for Dear Anna Olson came to Dean Kalman Lennert as he noticed something caught up in the branches of a tree near his home. It was a balloon and to it was tied a note that simply read, "Hello, my name is Anna Olson. I am a resident of the Thrushbrook Nursing Home. Please write to me." He did write to her, and was also captivated by the imaginings of this woman's life and her little note's impressive journey. As a career animator and filmmaker, Dean felt that this would be a perfect story to tell through the medium of animation.
THE STORY
The story, taking its cue from real life, starts out simply enough: Anna Olson is living in a nursing home. Like many of the other residents, she is feeling lonely and isolated, but unlike them, she takes action, in the form of notes tied to balloons. Through the journey of one red balloon, the film goes on to explore isolation in some of its many forms; a woodsman who seeks haven in his self-imposed solitude; a child experiencing the loss of Mommy's attention due to a newborn sibling; an employee feeling overwhelmed and lost among the machinations of the workplace.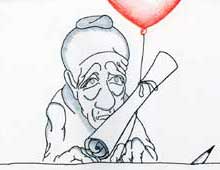 Yet through the direct impact of Anna's simple note, each of these individuals is compelled to break through their isolation in a quest to help Anna overcome her loneliness. For one character, it inspires him to look at the world, describing its beauty for another person's benefit. For another the discovery of the note is a chance to explore his imagination. For someone else, the note offers some perspective and an opportunity to act in a way that creates connection.
In the end, the story comes full circle as Anna receives the reply whose power for positive change comes not only from the warm wishes, colorful images and combined efforts that carried it back to her, but from the simple fact that Anna is being acknowledged, her isolation lifted through the generosity of other people.